This page is the brochure for your selected program. You can view the provided information for this program on this page and click on the available buttons for additional options.
Cross Currents of American and Japanese Cultures
Program Terms:
Summer

Restrictions:
UIC applicants only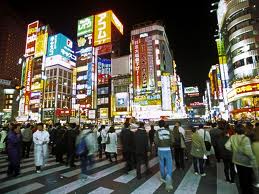 June 16 - June 22, 2014 (Chicago)

June 23 - July 26, 2014 (Tokyo)
Deadline: March 21, 2014
Tokyo Application Instructions 2014.pdf
This interdisciplinary comparative study abroad course explores the similarities, divergences, and cross-cultural circulation of each nation's cultural life from the mid-20th century post war period to the contemporary moment. This study abroad course is organized around two major interconnected themes that serve as touch points of our comparative study: history and cultural representations of WWII and its aftermaths and emerging expressions of gender and sexuality.
Examine the intertwining flows of Asian American, American and Japanese cultures since World War II in order to foster a critical worldview.
Discover how place, people and history matter in the context of remembering the past, creating cultural representations and developing racial/ethnic, arts/cultural, and political communities.
Increase their awareness of cultural attitudes and enhance their comparative analytical and critical skills through real world experiences.
Experience community organizing, language, media and popular culture within different social contexts.
Prepare themselves for a life of engagement as effective global and local citizens.
Throughout the course, academic theories on the social constructions of race, how power works, and the dynamics of inequality across nations will be introduced. We will study identity (racial, gender, sexual orientation) and nation formation in the U.S. and Japan within a framework that looks at the interlocking issues of indigeneity, empire, and occupation. We will also continually reflect on how gender and sexual norms are articulated in memorialization and remembrance of imperialism, war-making, occupation, and their aftermaths and how experiences of war, displacement, migration and globalization play a role in the construction of experiences of gender and sexuality identities. We will use and question these theories to critically analyze significant works of literature, film, and visual arts to begin to understand differences and similarities between countries, and to inform our real world, experiential learning during field trips in and around Chicago, Tokyo, and Hiroshima.
Courses:
Students will be enrolled in a 6 credit hour class taught by UIC Professors
Laura Fugikawa
and
Karen Su
. Students receive credits for ASAM 290 and GWS 294 for 3 credit hours each or may request to receive 6 credit hours in one of these rubrics.
Special Feature:
Visit the Ghibli Studio
5 day field trip to Hiroshima, Kyoto, Nikko
Hiroshima Peace Memorial Museum
Guest lectures on post-war gender and sexuality, anti-nuclear organizing and pop culture
Housing/Meals:
Students will be staying in double room hotel accommodations. In room internet access, and daily breakfast is included.
Eligibility:
Students must be enrolled at UIC at time of application and completed 12 hours at UIC with a minimum GPA of 2.5 No specific major required, but an introductory class in GWS or ASAM is recommended
Cost:
Program fee $4,700 includes tuition, housing with breakfast, and program related field trips. Additional expenses may include: airfare, meals, Japan rail pass, and personal expenses. Financial aid may be applied and
scholarships
are available to eligible undergraduate students. AANAPISI Japan Scholarship is available for eligible students.
Questions?
Contact Irina Krymova at the UIC Study Abroad Office at 312-413-7662 or at krymova@uic.edu
***This program may be canceled if minimum enrollment not met***